THE THREAT: There are villainous monsters, mutants, freaks, and warped masterminds in the world, beyond the ability of conventional police forces to deal with.
THE SOLUTION: Recruit your own monsters, mutants, freaks, and warped masterminds, and give them warrant cards.
Every large urban centre has its own Special Talents Response Team, a small cadre of unusual personalities with unusual abilities.
Manchester's is the infamous GOON SQUAD, a team that has been operating continuously since the 1940s. Based in the heart of the city, their brief is to deal with threats ranging from the slightly odd to the very strange indeed.
Join the GOON SQUAD as they bring law and a degree of order to a city under siege from the forces of weirdness.
GOON SQUAD is a "prose comic," an ongoing episodic story that unfolds in handy monthly issues.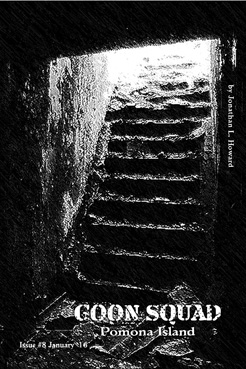 GOON SQUAD Issue #8
"Pomona Island"
Manchester is an old city with many shadows in its history. Most lie quiet, but now and then, one is stirred from its rest by the actions of foolish men. 

Pomona Island is a curiosity -- a backwater of the city left to nature for generations. Development reveals an old secret from which a fool tries to profit, unleashing a horror unseen in seventy years. 

Still reeling from the effects of the Exterminating Angel, the last thing the city needs is another killer on the loose. But there's something more personal to the GOON SQUAD about this new terror -- can it really be that the Squad's first ever case has come back to haunt them?